Quest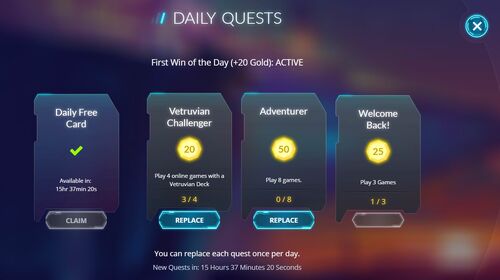 Quests reward players with gold for completing a set challenge on the Ranked ladder, in Rift Mode or in the The Gauntlet. Players can have up to two daily quests simultaneously. One of the quests is always a faction quest and the other one is either Ultimate Aggressor, Assassin or Adventurer. A single or both quests can be replaced once per day, and empty quest slots are refilled at a set time each day.
There is also the "Welcome Back!" Quest which players will get if they didn't finish all daily quests the day before. For every quest not finished the day before this quest gives 5 gold as a reward. For every day the quests are not finished it adds another 5g per quest to a maximum of 25 gold.
Sometimes CPG creates additional temporary quests with rewards like the "Frostfire Festival" or "Anniversary" quest.
Players also get 15g for every 3 wins.
Possible quests include:
| Name | Challenge | Reward |
| --- | --- | --- |
| Daily Free Card | Claim your free card of the day | 1 common card |
| [faction] Challenger | Play 4 online games with a [faction] squad. | 20g |
| Ultimate Aggressor | Deal 150 Damage to enemy Generals. | 50g |
| Assassin | Destroy 50 enemy minions. | 50g |
| Adventurer | Play 8 games. | 50g |
| Welcome Back! | Play 3 games. | 5-25g |
| Monthly Quest | Complete 15 quests. | 1 common crate key |
The Quests were reworked in patch 1.76
Patch 1.79 replaced the Daily Challenge which offered 5g for solving a Lethal Puzzle with the "Daily Free Card" quest which gives a free card of common rarity (from the Core or Shim'Zar set) every day.